​Every Thread are an acoustic duo from Birmingham UK who, in the words of Left For Dead Records, 'weave gorgeous melodies into lovely little nuggets of folky pop'. They create a stripped-back, intimate sound with guitar, bass and female vocals. Comparisons have been drawn to Everything But The Girl, Belle & Sebastian and Curved Air.

Self-produced debut album 'Leaves' reflects aspects of the live sound, alongside more expansive arrangements that transform live favourites into something new.

Every Thread regularly play live around the UK. Highlights have included several support slots for Bluetones frontman Mark Morriss, a short tour supporting The Standard Lamps, and sessions at venues including The Leaf in Liverpool, Mr Wolf's in Bristol, The Kitchen Garden in Birmingham and Westgate Chapel in Lewes. Festival appearances include Worcester Music Festival, Moseley in Bloom, and Leamington Peace Festival. Tracks from album 'Leaves' are played regularly on local radio stations in the midlands and have featured on BBC Music Introducing.​

​Every Thread are working on a new album and continue to play live across the UK.
"Every Thread took me to a warm, cosy place, and made me feel like I'd known their songs for much more than half an hour. It's testament to their performance and song writing that I was still humming the tunes the following day... From the mellow, folksy vibe of 'River', to upbeat, bounce-along 'Glow', to the groovesome '391' ("the one with the pedal", as Zoe introduced it), the set is varied and engaging. There's something instantly storyteller about Zoe's vocal, taking the audience on a heartfelt journey accompanied by dexterous guitar chords and melodies. Mike's bass provides a perfect foundation, with a warm, rounded tone adding harmony and rhythm without ever being intrusive. Simple but effective octave tricks lift the tunes at just the right moments." Stig's Gigs
"Every Thread are a Birmingham based duo that weave gorgeous Belle & Sebastian-esque melodies into lovely little nuggets of folky pop. They were the very first act I put on in Left For Dead in Birmingham, way back in 2013." Left for Dead Records
"Every Thread, from Birmingham, who stitched us up with some delightful folk music, some from a very apt 'Leaves' album, perfect autumn music. Zoe, vocalist and acoustic guitar, alongside Mike, with a magnificent looking Rickenbacker bass, left us with an upbeat, '391', that bass put to good use..." Rhythm & Booze
"Every Thread. With that name, how can I resist obvious metaphors and thread bare puns! Zoë Christina Titchener and Mike Weston do weave a wonderful tapestry with their reflective words and melodies. The shiniest thread for me was 391 featuring "Charlotte" enveloping me with funky folk! Their compact disc "Leaves" is a joy to listen to and the art work is a lovely touch of nostalgia Nano -Long Player! It's not an oxymoron. Buy it you'll get it. E.T. feels like home…" Manny McKenzie, No Covers Club
Powered by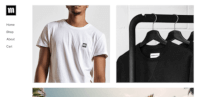 Create your own unique website with customizable templates.